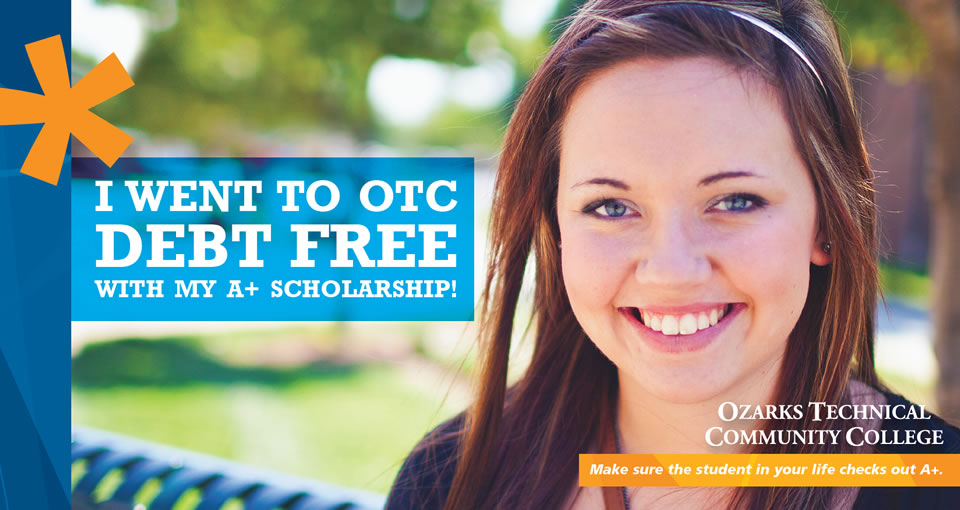 Welcome to the A+ Scholarship Program.
Scholarship for eligible graduates of A+ designated Missouri high schools
How to receive A+ Program Funding at OTC?
Have your official A+ stamped high school transcript on file with the Admissions Office at OTC.  A graduation date must be documented on the high school transcript.
Complete the FAFSA.
Enroll as a full-time degree seeking student.

12 credit hours, fall and spring semesters
6 credit hours, summer semesters
visiting students are not eligible to receive A+ funding at OTC

Be a United States citizen.
The A+ Program provides tuition and student fees for qualified students.  To qualify, students must meet all requirements established by MDHE, including minimum grade point average (GPA), attendance, tutoring, and good citizenship standards.
What steps must I complete to use the Missouri A+ Scholarship at OTC?
The A+ Program provides tuition and student fees for qualified students. To qualify, students must meet all requirements established by MDHE,  including minimum grade point average (GPA), attendance, tutoring, and good citizenship standards.
Steps for Receiving A+ at OTC
Be enrolled full-time (12 or more credit hours – fall and/or spring; 6 or more credit hours – if enrolled in summer).
Have your Official High School A+ stamped Transcript on file with Admissions Office at OTC.
Complete a Free Application for Federal Student Aid (FAFSA) at www.fafsa.gov each year.Fall 2015 , Spring 2016, Summer 2016 semesters require the 2015-2016 FAFSA.
Be seeking a certificate or degree at OTC.
After registration each semester, complete the OTC MyPay MyWay payment plan to defer eligible tuition and fees to financial aid and/or A+. Students are responsible for items not covered by the program.
What will my A+ Scholarship pay for?
In-district & out-of-district tuition
Common fees:

Student fee
Technology fee (not including labs)
Facility/infrastructure fee per semester
The A+ Scholarship will not pay for:
Books, supplies, miscellaneous fees, lab fees, or online course fees incurred while you are enrolled.
Repeated courses. If you repeat a course to change a grade (F, D, C, B, or A), the repeated course will not be paid for by the A+ program, but the hours will count toward meeting the full-time credit hour requirement.
How do A+ and Pell work together?
The A+ program scholarship covers the unpaid balance of your tuition and general fees after all available, non-loan federal financial assistance, such as the federal Pell grant, has been applied to your account. This may result in a zero award if your Pell grant is sufficient to cover all tuition and general fee charges.
Can I transfer to OTC to use A+ Program Funding?
A student may transfer from another college or university and utilize A+ Program funding at OTC contingent upon the following:
    The student must have official transcripts from previously attended colleges sent to OTC.
    The student must meet all other requirements to receive A+ Program funding.
    Cumulative grade point average established at a previous institution will not impact A+ eligibility at time of transfer to OTC.
Please note that transfer credits are not calculated into the cumulative grade point at OTC. The student must maintain at least a 2.50 cumulative grade point average of OTC coursework to remain eligible for A+ Program funding. For further details click on Maintaining A+ Eligibility & Length of Eligibility.
How many semesters can I use the A+ Program?
Student eligibility for A+ funding will expire at the earliest of the following:
48 months after High School graduation
Receipt of an Associate's Degree
When a student completes 105% of the credit hours required for his/her certificate or degree.
The 105% calculation will not include: Credit hours earned before high school graduation.
A+ funding will cover 100% of the courses required of a certificate or associate's degree program that a student chooses, and possibly one additional course.  However, if the student is required to take remedial math, English and/or reading courses then he or she may use the entire A+ funding before completion of the certificate or degree program.
105% Example:  If an associate's degree requires 62 credit hours then 105%= 65 credit hours.  (Therefore, once the student completes 65 hours, they will no longer be eligible for A+ funding.)
Can I receive A+ funding and attend school less than full-time?
Yes; if you meet one of the exceptions below:
You have a documented disability and an ADA letter on file with the Financial Aid Office from Disability Support Services.
You plan to graduate at the end of the semester and have applied for graduation with the Registrar's Office. You must email Linda Johns at johnsl@otc.edu if this applies to you.
You have been accepted in an Allied Health program and the hours required for a given term are limited to less than full-time enrollment.
Can I use my A+ at OTC this summer?
The Missouri Department of Higher Education (MDHE)  permits a student to use A+ Program benefits at a community college his or her first summer after high school graduation, even if he or she plans to transfer to a four year college or university in the fall.
Visiting students to OTC, or students enrolled at 4-year colleges and universities during the prior fall or spring semesters of the current school year are not eligible to use A+ funding during the summer semester.  This is due to the fact a student must be degree seeking at the institution where A+ is utilized.  Students who transfer to OTC with the intent of seeking a degree can complete the steps below to use A+ at OTC as long as the scholarship benefits have not expired.
In order to use A+ for the summer term, you must complete the following steps:
Apply for admission to OTC at http://www.otc.edu and complete the enrollment process
Select a program of study (visiting students are not eligible)
Have an Official High School A+ stamped transcript sent to OTC's Admissions Office
Have a Free Application for Student Aid (FAFSA) on file with OTC

To complete a FAFSA go to http://www.fafsa.gov; OTC's Federal School Code is 030830
2015 – 2016 FAFSA required for enrollment in SUMMER 2016
**Last possible day to complete the 2015-2016 FAFSA online is June 30th, 2016.**

Enroll as a full-time college student (summer enrollment – 6 credit hours)
The Financial Aid priority deadline for the summer semester is May 1st.
Can I use A+ if I'm an Early Leaver?
Mid-year HS graduates a/k/a Early Leavers are required to complete all steps for receiving A+ program funding.  The Missouri Department of Education A+ policy requires a student who is an early leaver to provide the college with a transcript which includes their graduation date.  That date must be prior to the term in which the first A+ eligibility begins.  Official means the transcript has a graduation date.