Change Your Student Record Information
Change your student record information includes:
Name
Phone Number
Address
Emergency Contact Information
Gender
A student may update their phone number, address, 3rd party email and emergency contact information in myOTC in their student profile.  All other information may be updated using the change student information form (see below).  Please note that some changes require appropriate documentation.
IMPORTANT INFO FOR THOSE CHANGING LEGAL NAME OR GENDER
If you are changing your legal name or gender, you are REQUIRED to upload documentation along with submitting the DocuSign form. Locate the clip icon (as seen below) on the form to upload proof of documentation required. Failure to upload documentation WILL result in your request being declined.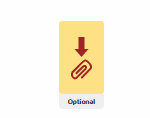 If you do not have access to myOTC, you may complete the Change of Student Information via DocuSign.
Last Updated: 02/13/2023