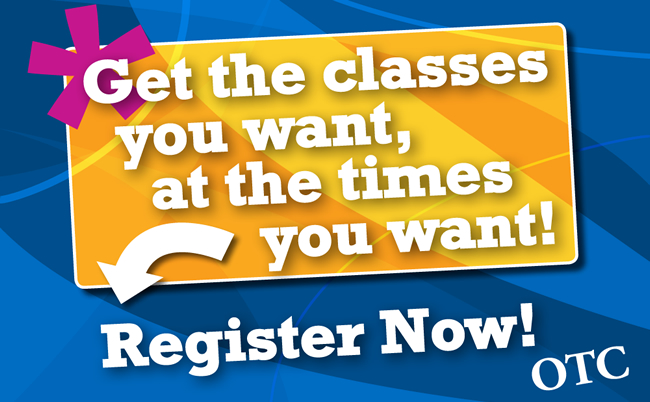 Here are the top nine things you need to know to register for classes at OTC. Once you are ready to register, click the Register Now button at the bottom of the page. You will be taken to my.otc.edu to login to register. Once logged in, click on the AccessOTC tab to get started. 
Start early. Check your AccessOTC: When can I register?
Know your personal and work schedule so that you know what times you are available for class.
Make sure your financial aid is in order for the next semester.
Check your AccessOTC: Financial aid status by term.
Check to see if you have any any account restrictions.
Contact your assigned advisor. Allow two business days for a response.
Check your AccessOTC: My Profile/Advisor.
Check your degree audit to ensure that you are registering for the correct classes.
Check your AccessOTC: Degree Audit.
After you register, enroll in a payment plan and reserve your textbooks.
Go to your AccessOTC: My Payment Plan for payment and Textbook Reservation for textbooks
If transferring, contact the institution you are transferring to verify what courses will transfer
and to check application deadlines.