When can I pick up my cap and gown?
Students can pick up their FREE graduation regalia at the OTC Bookstore in April 2020. You can find the bookstore just west of the Information Commons West building on the Springfield campus. However, OTC strongly encourages graduates to pick up these items at the Grad Prep event on April 9, 2020. If you want your cap and gown delivered to another OTC campus or center, please contact the secretary at that campus or center.
Make sure you read and complete the care instructions for your gown prior to the ceremony.
Where can I get graduation announcements or gifts?
The OTC Bookstore is your place to shop for all things graduation. Let everyone know about your big day in style. Visit this site to take a look at official OTC graduation products.
What is proper dress for the ceremony?
Students who choose to participate in the graduation ceremony must wear their caps and gowns over proper dress for the event.
Women:
Please wear appropriate dress shoes for walking. The floors are slick and the walk from the Hammons Student Center to the JQH Arena is quite long.
Men:
Please wear a collared shirt, tie, long pants and closed dress shoes.
Additional Requirements:
Leave purses, jackets, umbrellas and personal belongings in your vehicle or with a friend or family member.
Corsages, pins, scarves, etc. should not be worn on gowns.
Jeans are not appropriate dress for the commencement ceremony.
The tassel hangs from the right side of the cap.
Where is the JQH Arena located?
The physical location of JQH Arena is on the campus of Missouri State University.
Address:
685 S. John Q. Hammons Parkway
Springfield, MO 65897
Where do I park on the day of the ceremony?
Parking:
Please remember to allow extra time to find parking on the day of the ceremony. The parking garages located to the north and south of the arena will likely be the best place to easily find a parking place. Only graduates are to report to Hammons Student Center (by 5 p.m.). Family and friends should go directly to JQH Arena.
Disabled Parking:
Disabled parking is available in lot 25. This location is directly southwest of JQH Arena. You will locate the parking lot at the corner of Holland and Bear Boulevard. The entrance to this lot is on Holland Street. Disabled parking is directly southwest of the main entrance and is available on a first-come, first-served basis to individuals displaying a disabled parking license plate or placard. JQH Arena is fully accessible for patrons with disabilities.
Where do I go on the day of the ceremony?
On the day of the ceremony, all students intending to walk in the procession should report to the main floor of Hammons Student Center by 5 p.m. Doors will open at 4 p.m. Please leave all personal belongings with friends or family members before entering Hammons Student Center, as you will not be returning to that facility.
Need Assistance?
If you or your guests expect to require any assistance on the day of the ceremony, please contact Jeff Jones in Disability Support Services by emailing jonesj@otc.edu or calling (417) 447-8192.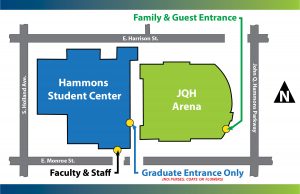 What happens at Hammons Student Center?
When you arrive at Hammons Student Center, staff will provide you with a name card that you must hold on to. (Later, you will give this name card to the gentleman who announces your name and degree at JQH Arena.)  At this time, professional photographers from Lifetouch will be available take photos in front of a backdrop, if you choose. (This service will only be available before the ceremony begins. However, the Lifetouch photographers will take a photograph of each graduate as they receive their diploma during the ceremony.) Graduates will assemble on the floor of Hammons Student Center, where directions will projected onto a large screen.
Additional Notes:
Also, please note that the walk from the south side of Hammons Student Center to JQH Arena is quite long. If you plan to walk, please choose your shoes carefully, bearing in mind both comfort and appropriate appearance for the occasion.  If any student anticipates a problem with the walk, please contact Jeff Jones at jonesj@otc.edu or by calling (417) 447-8192, and see the designated assistance table immediately upon arrival at Hammons Student Center.
Will there be professional photos taken?
Lifetouch is the official photographer for OTC's commencement ceremony. They will take pictures in Hammons Student Center before the ceremony begins, if you choose. The photographers will also take a photo of each graduate receiving their diploma during the ceremony.
When will my photos arrive?
Lifetouch will send photo proofs to your home and via email within two weeks of graduation. While there will be no obligation to buy photos, they will be available for purchase at events.lifetouch.com/otc.
Will I receive my diploma at the ceremony?
OTC evaluates all academic records before it disburses diplomas. The Registrar's Office mails diplomas to graduates approximately six to eight weeks after the commencement ceremony. Transcripts verifying your degree/certificate are available approximately one week after the commencement ceremony. Click here for more information on requesting a transcript.
Is there Wifi to connect to at JQH Arena?
Wifi is not available in the facility unless the individual already has a Missouri State University account and password.
What do faculty and staff need to know about regalia?
Staff and faculty participating in commencement must complete a faculty regalia order form. Please contact Mike Watts for the form and/or if you have any questions regarding the ordering of regalia. Staff and faculty are provided regalia at no cost. Ordering Deadline for Regalia is April 1 — if faculty orders are placed after that date, late/rush fees may apply and will be charged to the department accordingly.
Cords, stoles and medallions are not traditionally worn by faculty/staff unless specified by the commencement committee.
Please visit the OTC Bookstore Commencement Regalia website for degree level and staff regalia standards. The tradition of these standards should be departed from as little as possible to preserve the symbolism (which dates back to the Middle Ages) and practicality.