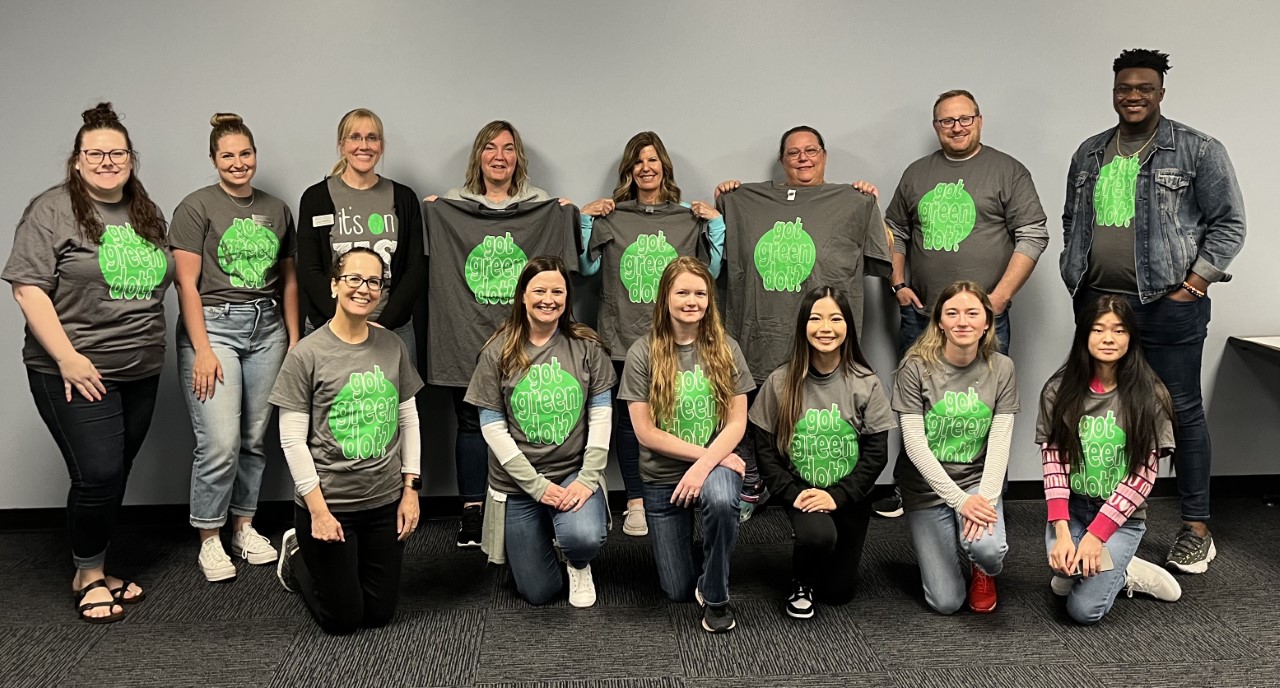 What is Green Dot?
Green Dot is a bystander education approach that aims to prevent violence by teaching people how to intervene in situations that might be harmful. The belief is that by engaging in green dots (positive bystander behaviors) we can reduce red dots (harmful behaviors).
Nobody loses with Green Dot. The techniques we teach are beneficial to anyone and everyone. Green Dot works best when we see higher levels of student involvement, but we also hope that our faculty and staff can lead by example through participation in Green Dot Overviews, the full Bystander Intervention Certification Training, and participating in awareness campaigns.
How can I get Involved?
Participate in a Green Dot Overview or the full Bystander Intervention Training!
The Overview is approximately one hour in length and introduces the concept of bystander intervention and some simple actions you can take to keep your campus and community safer.
The interactive Bystander Intervention Training is approximately 5-6 hours long and does a deep dive into:
What is interpersonal violence and how can you recognize it?
What is bystander intervention?
What can you do reactively and proactively to stop violence from happening?
See training dates below.
Green Dot Scholarship Opportunity
In an effort to alleviate financial concerns while also promoting violence prevention for a safe campus, the Title IX and Project Heal Offices are offering students who complete the OTC Green Dot Bystander Intervention Training or the Safe Colleges Violence Prevention Program for Community Colleges to be enrolled into a raffle for a $500 scholarship. There will be a sperate scholarship raffle for both Green Dot and the Safe Colleges training, giving students double the opportunity.
While all students are welcomed to complete both trainings, only those who are: (1) U.S. Citizens or permanent residents; (2) have completed a FAFSA; (3) are a degree seeking student; and (4) are completing Satisfactory Academic Progress will be eligible for the raffle.
To register for a Green Dot training session, please see registration information below or email greendot@otc.edu for more information. To complete Safe Colleges Violence Prevention Training, please go to https://otcstudents-mo.safecolleges.com/, enter your student ID and password, then click on the Sexual Violence Prevention for Community Colleges course in the extra training tab.
Bystander Intervention Training – Students and Employees:
April 14th, 9:00 am – 3:00 pm, in-person on the Springfield Campus
Check out our online calendar to see additional Green Dot activities on campus or learn more about Green Dot on the national stage.