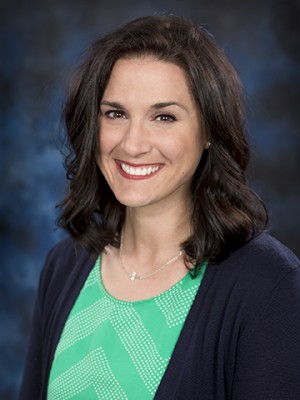 Chelsey Taylor, Ed.D.
Chelsey came to OTC in April 2012 to begin her career as an Admissions Representative. A few of her job responsibilities include traveling to area high schools to speak with prospective students, assisting with Student Services concerns and representing OTC at public events.
She graduated with a Bachelor of Science degree in Administrative Management with a minor in General Business in 2008 and an MBA in 2009 from Missouri State University. In 2016, she completed her Doctor of Education from Lindenwood University. After working in the mortgage industry for two years, she chose to switch gears and pursue a career in higher education. She found OTC to be the perfect fit. Although she originally moved to Springfield to attend college, she has never had the desire to leave. She enjoys the atmosphere and sense of community that Springfield offers.
Volunteer Work
Aside from being a part of the Admissions Team at OTC, Chelsey is involved in Big Brothers Big Sisters and volunteers at the Wonders of Wildlife Museum & Aquarium. She is a member of the Missouri Community College Association and the Missouri Association of Collegiate Registrars & Admissions Officers. Chelsey is an animal lover, and one of her favorite ways to spend free time is hanging out with her dog, Layla.
Admissions Representatives
Although all of the Admissions Representatives are able to assist with any of your admissions needs, each Representative is designated to serve specific school districts in Southwest Missouri. If you would like to contact your specific representative, please locate your school!
Chelsey's schools are: Appleton City, Aurora, Billings, Bolivar, Carl Junction, Carthage, Clever, Clinton, Dadeville, East Newton, El Dorado, Everton, Fair Play, Glendale, Golden City, Greenfield, Humansville, Jasper, Joplin, Lakeland, Lamar, Lockwood, Marionville, Miller, Monett, Montrose, Morrisville, Mt. Vernon, Neosho, Nevada, Osceola, Pierce City, Sarcoxie, Springfield Catholic, Stockton, Verona, Walnut Grove, Weaubleau, and Webb City