Facts
National Data
Suicide is the second leading cause of death among 15-34 year olds.
For every person who dies by suicide, more than 30 others attempt suicide.
Among undergraduates and graduates from 2012, 7.1-7.7% of students seriously considered suicide, 2.3% made a plan, and .6-1.2% attempted suicide. The rates for individuals of the same age but not enrolled in college full time are all 1-2% higher.
Missouri Data
The means by which individuals take their lives varies depending on their age and sex, but the use of firearms is the primary means of suicide among Missouri both youth and adults.
From 2010 to 2013, half of all suicides among youth 15-24 were due to firearms, followed by suffocation and poisoning. However, younger youth (10-14) are more likely to use suffocation.
More Missourians died by suicide than by motor vehicle accidents (958 vs. 757).
Missouri Youth Ages 15-24 (2010-2013)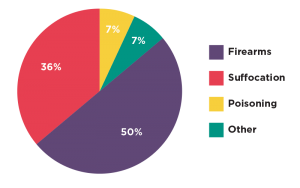 Source: Partners in Prevention